Home Internet in Japan: Portable (Pocket) Wi-Fi or Fiber-Optic Internet?
If you are planning to spend some time in Japan, access to the internet will make things a whole lot easier. For travelers, a data-only SIM card will provide adequate access to the internet throughout your stay (although portable Pocket Wi-Fi can be a better option if you want to use multiple devices or are traveling in a group). If you will be living in Japan longer-term, however, you will probably want to set up a solid internet connection at your home. The two main options available are either to use a portable Pocket Wi-Fi (or similar router) or to apply for fiber-optic internet service at your residence. In this article, we examine the advantages and disadvantages of both and make some recommendations based on how you intend to use the internet at your home in Japan.
Home Internet in Japan
If you are moving to Japan and plan to stay for a while, you will likely want to set up a solid internet connection at your home so that you can stay connected with friends and family at home (and let them know how much fun you are having in Japan!) along with keeping up with your favorite shows from overseas on Netflix or other streaming platforms (and maybe discover a few new ones from Japan!).
For those of you who will be working or studying in Japan, you may, depending on the nature of your job or school, also require an internet connection strong and fast enough to allow you to complete various tasks online (such as online meetings, research, or file downloads/uploads) in a timely and efficient manner.
Your two main options for home internet in Japan are:
A portable Wi-Fi router - commonly known as Pocket Wi-Fi in Japan
A fiber-optic internet connection
Your choice will depend on several factors.
Along with speed and reliability, you will likely also be concerned about price. Getting an internet connection at your home in Japan can potentially involve initial setup costs as well as regular monthly bills, and if you cancel your contract early, there can be cancellation fees as well, so it is important to factor in all these potential costs when choosing your provider and type of internet connection.
One more factor that might concern you will be how long it takes to get your home internet set up in Japan. For example, you might be worried that if you opt for a fiber-optic connection, you might be left waiting for weeks with no internet at your home. However, there are actually several possible solutions to this dilemma that we will cover in our Setup section below.
But first, let's take a quick look at the two main options for home internet in Japan.
Portable (Pocket) Wi-Fi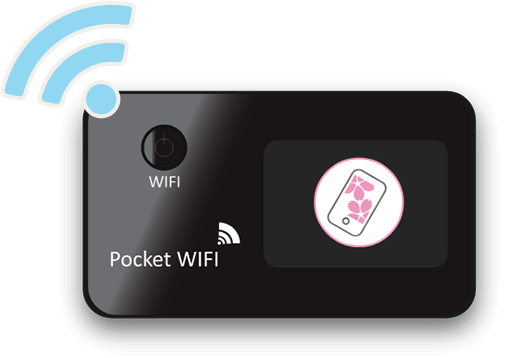 A typical Pocket Wi-Fi router (Source: Sakura Mobile homepage)
Portable Wi-Fi routers (known as Pocket Wi-Fi in Japan) are small units that can provide your devices with internet access anywhere with mobile network coverage. All you need to do is turn the router on and connect to the Wi-Fi signal it sends out (as with any Wi-Fi signal anywhere). You can also connect multiple devices at the same time. Each device possesses a built-in rechargeable battery (a fully charged battery usually lasts anywhere from 10-20 hours, depending on the model you use). The devices typically weigh about as much as a typical smartphone.
Pocket Wi-Fi have become increasingly popular in recent years, primarily to provide internet for mobile phones and other devices during travel or time spent working outside the home or office. Many people have also realized that Pocket Wi-Fi can also provide adequate home internet service for them, particularly if they have relatively low data usage and do not require extremely high speed internet. This comes with the added benefit of being able to pick up the router, put it in your pocket, and take it anywhere you go. At home, you can even leave your Pocket Wi-Fi plugged in and charging at home so that it will be fully charged up and ready to go, all while using it for your home internet needs.
Advantages
Portable - carry it around (even in your pocket) and use it anywhere there is mobile service.
Quick and easy setup - just turn it on and connect to the Wi-Fi network.
Fairly high connection speeds and data - while not as fast as fiber-optic internet, speeds are generally good these days. Data plans vary based on the company, length of contract, price, and other factors.
Disadvantages
Carrying it around with you - while a Pocket Wi-Fi unit is not big or heavy (approximately the same as a conventional smartphone), it is another thing you'll need to carry with you (and not lose!).
Speed/data limitations - as stated above, these are fairly good, but whether or not a Pocket Wi-Fi can provide you with adequate internet speed and monthly data for your home internet needs will depend on several factors such as the number of people (and connected devices) in your household, how much you use the internet, and what you use it for.
Aside from Pocket Wi-Fi, several companies in Japan offer another type of router (this has different names depending on the company, but often something like "Home Wi-Fi") that works essentially the same way as a Pocket Wi-Fi, apart from the fact that it is larger and you need to keep it plugged in at all times, like a conventional router.

These routers allow for much quicker installation than fiber-optic internet (essentially you just plug the router in and you're good to go) but obviously are not as portable as Pocket Wi-Fi. If you move house within Japan, however, you can take your router with you and use it in your new home, whereas with fiber-optic internet, you will likely need to reapply and get reconnected in your new residence all over again.
Fiber-Optic Internet
GTN Mobile's fiber-optic home internet comes with a free Wi-Fi router (Source: GTN Mobile homepage)
Fiber-optic internet is the most popular choice for home internet in houses and apartments throughout Japan. The system functions using networks of high-tech fiber-optic cables (older ADSL lines are no longer available and are set to disappear by 2023, replaced by FTTH fiber-optic cables).
These cables offer the fastest internet connections in Japan, in fact some of the fastest in the world, with download speeds up to 1GB/sec (1 Gigabyte per second). Data is generally unlimited.
You should be aware that not all homes in Japan these days come already-equipped for fiber-optic cable internet, so you should expect the possibility of additional installation costs as well as having to wait several weeks before installation can take place (a technician will need to visit your residence, which requires an appointment).
Advantages
Speed - up to 1GB/sec, among the fastest in the world.
Unlimited data - useful for those who use the internet a lot for work, study, or entertainment, as well as multiple-person households.
Very stable connections - important if you need the internet for video meetings or similar.
Disadvantages
Setup/installation - if necessary, it can be tricky to arrange an appointment for installation/setup. You will usually have to wait a few weeks before a technician can visit.
Installation fees - these can range quite widely (e.g. ¥2,000-¥22,000) depending on how old your building is, where you live, etc.
Long-term contracts - usually at least one year is required, with cancellation penalties if you cancel in advance (though these seem to have gone down recently). You will also usually need to go through the whole setup process again if you move house within Japan (not so with Portable Wi-Fi).
Finding Free Wi-Fi in Japan Free public Wi-Fi in Japan has become somewhat more widespread in recent years. The best places to find free Wi-Fi are coffee shops (especially large chains such as Starbucks or Tully's), convenience stores (especially Family Mart and 7-Eleven), train stations and airports, museums, and some fast food restaurants (McDonald's always has free Wi-Fi). The Shinkansen and some other train lines (and even bus lines) do have free Wi-Fi, but connections can be unreliable due to tunnels and other obstacles.

Note: it can be difficult to find free Wi-Fi (or indeed, any Wi-Fi available to foreigners) in more rural parts of Japan.
Let's take a closer look at some of the factors that could influence whether Portable (Pocket) Wi-Fi or Fiber-Optic Internet is the right choice for you.
Portable (Pocket) Wi-Fi or Fiber-Optic Internet? - Setup
When it comes to a quick and easy setup so that you hit the ground running with internet available right from the moment you move into your home in Japan (or from the moment you arrive at the airport!), Pocket Wi-Fi has the advantage for sure.
In general, you can apply for Pocket Wi-Fi via a quick online registration procedure with the company of your choice. Many companies offer airport pickup or you can elect to have the router delivered to an address in Japan of your choice.
All you need to do when you get your Pocket Wi-Fi router is to switch it on and connect your phone or computer to the Wi-Fi signal that the router generates. After that, just make sure that the router's battery stays charged and that you don't leave it behind in a train or taxi!
As for fiber-optic internet, considerably longer and more expensive setup procedures can be involved. While it is possible to register for fiber-optic internet online with most companies, a certain amount of communication (via email or phone, or in a physical store if the company has physical stores) will be required to ascertain which installation procedures (and the ensuing costs) will be necessary. Some more modern apartment buildings may have cabling already installed but if you live in an older building or standalone house, a technician may have to visit to install the requisite hardware.
It can take a while to get fiber-optic internet ... It can often take several weeks before you can get an appointment for installation, meaning that fiber-optic internet, while potentially a good long-term investment due to its speed and high bandwidth, can be a bit of a nuisance to get set up at first!
One final consideration is whether you require service in English. While the big three providers (au, docomo, SoftBank) are the most common purveyors of fiber-optic internet in Japan, getting service in English can be difficult and time-consuming. Sakura Mobile, Mobal, and GTN Mobile are the three best known providers that cater to English speakers. Note, however, that Mobal does not currently provide fiber-optic internet (though it does have a pretty attractive monthly Pocket Wi-Fi package). Sakura and GTN both offer fiber-optic internet with full customer service in English.
Verdict: Setting up a Pocket Wi-Fi is a far quicker and more convenient option.
A useful compromise... If you want the speed and bandwidth of fiber-optic internet in your home in Japan but are worried about the first few weeks without access to the internet (maybe you will be working from home or studying or trying to keep small children entertained), you might want to consider a short-term Pocket Wi-Fi rental until your fiber-optic internet has been set up.

Sakura Mobile, one of the providers that specifically caters to English speakers in Japan, offers the option to request a temporary Pocket Wi-Fi rental when you apply for their fiber-optic internet service online. Doing so ensures that you will have access to the internet via Pocket Wi-Fi until your fiber-optic internet has been fully installed and set up.
Portable (Pocket) Wi-Fi or Fiber-Optic Internet? - Speed, Reliability, and Data Limits
Pocket Wi-Fi units use mobile phone networks (4G/LTE) to produce a Wi-Fi signal. Speeds range quite widely, from as low as 1Mbps (megabytes/second) up to 42 Mbps. Some companies claim that their devices can reach as much as 150 Mbps or even higher, but these are usually maximum speeds that are rarely achieved in reality. As with mobile phones, the stability and reliability of the connection can also vary based on your location, the weather, and other factors. Users should also be aware that while short-term Pocket Wi-Fi units marketed to travelers in Japan often have unlimited data, longer-term monthly contracts generally do have monthly data limits. If these are exceeded, the speed of your connection will decrease until the end of that month.
On the other hand, fiber-optic internet speeds in Japan are extremely fast, up to 1 Gbps or even higher. This too is a maximum speed that may only rarely be reached, but the speed of fiber-optic connections is undoubtedly faster than that of Pocket Wi-Fi. Because fiber-optic internet is provided by a physical network of cables, network stability and reliability is generally very consistent. Data is usually unlimited.
 
Pocket Wi-Fi
Fiber-optic internet
Speed (General Range)
1-40 Mbps
100-700 Mbps
Reliability/Stability
Usually okay but can vary
Excellent
Monthly Data
Sakura : 10GB or 30GB
Mobal: 100GB
GTN: "Large Capacity"
Sakura: Unlimited
GTN: Unlimited
If you're like me and not too sure what Mbps speeds actually mean in reality, here is a chart to help you understand the speeds that common online activities generally require.
4K Video/Online Gaming
25 Mbps
Online Meetings (Zoom, etc.)
10 Mbps
Streaming Video (1080p)
5 Mbps
Streaming Video (720p)
3 Mbps
Internet Browsing
Messaging Apps (LINE, etc.)
Email
1 Mbps
As you can see, Pocket Wi-Fi speeds may not be reliable or fast enough if you want to use the internet for online meetings, 4K video, or online gaming.
Verdict: The speed, stability, and unlimited data of fiber-optic internet are far superior to Pocket Wi-Fi, so unless you will be living alone and making limited use of the internet, fiber-optic internet will probably suit your needs better.
Portable (Pocket) Wi-Fi or Fiber-Optic Internet? - Prices/Rates
How much should you expect to pay for home internet access in Japan?
This can actually vary quite a bit based on the provider and data plan that you choose, as well as whether you opt for Pocket Wi-Fi or fiber-optic internet. It is also important, however, to consider whether some short-term costs will be worth paying if you will be using internet at the same residence in Japan for quite some time.
In general, Pocket Wi-Fi units for long-term residents of Japan (i.e. over 90 days) involve some sort of initial purchase or activation fee followed by a monthly bill. Generally, these costs will be somewhat cheaper than fiber-optic internet.
Installation/setup costs for fiber-optic internet vary considerably, depending on the building you live in and the extent to which it is already configured for high-speed fiber-optic internet. Monthly fees tend to be slightly higher than for Pocket Wi-Fi. Be aware that costs can sometimes be higher if you live in a house rather than an apartment.
 
Provider
Initial Costs*
Monthly Charges*
Pocket Wi-Fi
SakuraOfficial site
¥5,500 (activation fee)**
¥3,828 (10GB)
¥5,478 (30GB)
Pocket Wi-Fi
GTN MobileOfficial site
¥3840 (admin fee)
¥660 (shipping fee)
¥10,000 (deposit)
¥4,378 ("High Capacity")
Fiber-optic internet
SakuraOfficial site
¥5,500 (admin fee)***
¥2,200-¥24,200 (installation charges)
¥7,128 (unlimited data)
Fiber-optic internet
GTN MobileOfficial site
Unclear
From ¥3,800 (unlimited data)
*for reference purposes only; please refer to company websites
**students are eligible for a ¥1,100 discount
***if you sign up for a Sakura Mobile long-term mobile phone contract at the same time, you can get a discount on this admin fee, reducing it to just ¥110!
While Pocket Wi-Fi is generally slightly cheaper than fiber-optic internet, many people these days will prefer the unlimited data, faster speeds, and greater reliability of a fiber-optic connection in their home, especially if using it for work or study (or entertainment…nobody likes a spinning wheel on the screen in the middle of a penalty shootout or the climactic scene of a film).
For families or those who use the internet extensively (online games, online meetings, high-quality video streaming, etc.), fiber-optic internet is probably worth the price.
However, if you will be living alone and are a very light internet user (i.e. web browsing, messaging, Google Maps, YouTube clips), a Pocket Wi-Fi could work just fine and save you some money too.
Verdict: For most people, fiber-optic internet is worth the slight difference in price.
Portable (Pocket) Wi-Fi or Fiber-Optic Internet? - Cancellation
A final consideration is how long you plan to stay at your new residence in Japan (and how long you plan to live in the country). Many fiber-optic internet companies require a contract of at least one year, with cancellation fees if you break contract (though these penalty fees have gone down somewhat recently). Sakura does offer fiber-optic internet contracts, however, that can be cancelled at any time without any extra cancellation fees. For GTN Mobile, you should ask about their minimum period of use and associated cancellation fees (if you cancel prior to the end of this period) before signing your contract.
Even without cancellation fees, you should factor in the installation and admin fees that you will have to pay again if you move to a new house or apartment in Japan (as well as enduring the hassle of setup and installation all over again).
As for Pocket Wi-Fi, the length of time that you plan to live in a given location in Japan is not really relevant (as the main point of Pocket Wi-Fi is that it is portable!). Most Pocket Wi-Fi plans allow cancellation at any time, though you will likely have to pay until the end of the month in which you cancel. Both Sakura and GTN Mobile allow cancellation at any time with no additional fees. Mobal charges a cancellation fee if you cancel before the first three months have passed. After that, there are no cancellation fees to worry about.
If you do move house (within Japan), you can simply bring your Pocket Wi-Fi along with you!
Verdict: Pocket Wi-Fi might be your best choice if you will be moving house within Japan before long (or frequently) to avoid installation and/or cancellation fees. If you will be staying put for a while, the greater functionality of fiber-optic internet probably outweighs its associated extra costs.
Conclusion - Portable (Pocket) Wi-Fi or Fiber-Optic Internet?
Whether you choose portable Pocket Wi-Fi or fiber-optic internet to provide you with internet service at home, your choice basically boils down to how much money you are willing to spend and how much you will use the internet at your house or apartment.
For those needing to save money or those who move around a lot, Pocket-Wi-Fi could be a perfectly reasonable option for home internet with its quick and easy setup and its cheaper monthly rates.
For most people, however, dealing with the initial costs and hassles of setting up fiber-optic internet will ultimately be worth it, given the superior speed, stability, and data amounts that a fiber-optic connection can provide.